Like the last post this list will be mostly paperbacks, some are new and some are older ones which have been on my reading list but I didn't have
time
to read until recently.....some I don't even really count as fantasy, but that's where you will find them in the book store.
Temping Fate
by Ester
Friesner
Ilana
is relieved to get a summer job, but she wonders if she's made the right choice when the Divine Relief Temp Agency sends her to Tabby
Fabricant
Textiles. When she is given an unusual typing assignment,
Ilana
wonders aloud why a textile business would be issuing death certificates. Georgette calmly replies, "They're not death certificates, dear....They're death receipts. We're the Fates. It's what we do." Soon
Ilana
discovers that everyone employed by the agency works for the gods or the heroes. A must read for myth buffs and those who remember odd summer jobs.
Friesner
also wrote stories for the
Chicks in

Chain mail
anthologies. That's where I first found her and I often seek out her books and stories when I want a slightly twisted look at things. In
Temping Fate,
I had a blast trying to spot all the gods, goddesses, and mythical creatures before
Ilana
caught on to who and what they were. Very light, lots of fun.
Second Sight by Amanda Quick
The first of Quick/
Krentz's
Arcane Society series, Second Sight draws readers into the romance of the Victorian age and the paranormal secrets of the Arcane Society. Twenty-year-old
Venetia
Milton, finding herself with no prospects of marriage since she is the sole support of her siblings and maiden aunt, decides to take matters into her own hands. She sets out to seduce the handsome Gabriel Jones - but Gabriel is the descendant of Sylvester the Alchemist and heir to the Arcane Society, a clandestine association of alchemists, scientists, and dabblers in psychic phenomena. Secrets abound in this suspenseful romance.
I'm not usually a fan of books set in Victorian England, but I did like this one. It is a romance more than a fantasy and most of the mystery/suspense plot takes a backseat to the romantic action. Again light and a quick read.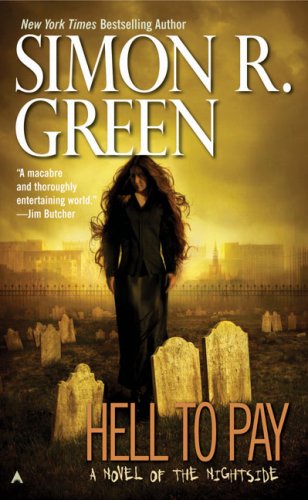 Hell to Pay by Simon Green
John Taylor is back in (not quite the latest)
Nightside
book. I love, love, love, love, LOVE this series. It's one of the series that brought me back to mysteries and John Taylor has become one of my favorite private eyes. In this installment,
Nightside
is still recovering from the
Lillith
Wars and John is not always the most popular guy to have around, but since the Wars his reputation has gotten even scarier. One of
Nightside's
richest residents calls in John to find his
granddaughter
. Not a problem for
Nightside's
first private dick with a
knack
for finding things, but one problem....a BIG one! Someone, or something, POWERFUL is blocking John's gift. So he has to resort to finding
the
girl the hard way. Along the way, he learns maybe more than he wanted to about the immortal
Griffons
. Can John find the girl and save the day...and make a ton of cash? Of course and as always with style....but you'll have to go find this paperback to get the details!